Google Street View Singapore
How was Google street view created? What is Google street view?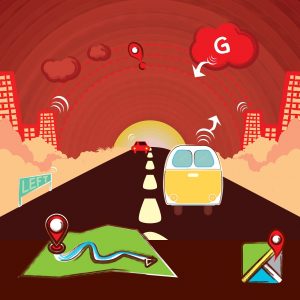 Launched in 2007 by Google, Street View is a technology that is featured in Google maps and Google earth. Its aim is to provide panoramic 360 images and virtual tours of existing locations all around the world. It was only available in San Francisco, New York, Las Vegas, Miami, and Denver. Google street view 360 originated from the United States and has come a long way in expanding to all 7 continents. Today, street view data has covered 3,000 cities in 47 countries all over the world.  As a result, Google street view 360 has also sparked the start of the virtual tour Singapore industry.
The Google street 360 view application is designed to capture 360 images that can display even the little details of a place all from your device. Virtual tours and Google street 360 view are tools that have been used by businesses to create an immersive experience of their location for potential customers. Teachers can use this technology to give their students an experience like never before. In addition to Google street view, corporate video production is used in line with that to help students to learn. By using the Google street view 360 tools, students can discover the world outside the classroom to almost anywhere in the world. There are 360 images that showcase museums, historical monuments, wildlife refuges, and you can even dive under the ocean's surface. It can also provide help especially to search teams looking into the woods or thick forest.
Therefore, where does Google Street View get its sources from? What is the step-by-step process of how it is all put together? In this article, we take a deeper look into the Google street view 360 application to see how it all works.
How does Google get its images?
Firstly, let's be clear that Google is not using satellite images to capture their contents for any of their applications, including Google street view 360. Google attains their imagery from 2 main photography sources. Google's own content and their contributors' content. Google owned content credits "Google maps" and "Street view". When they first launched it the camera resolution is only 5 megapixels nowadays they use as high as 75 megapixels cameras.
Their images are captured by various forms of transportation across the globe. Contributors can deliver their 360 images how they want with certain policies put in place.
Google Street View Singapore's fleet
Street View car
The Google Street View Singapore car is Google's primary way to obtain the 360 images. The street view cars have special cameras put in place that capture the shots as they are being driven in the location. The street view cars are now in all 7 continents around the globe and have captured more than 10 million miles of imagery for the Google street 360 view application.
Street View trekker
This device was invented to capture images that no car or trolley can do. The trekker is used for locations that are only accessible by foot. It is a wearable backpack that has a camera fitted at its top. This is the most viable option for areas with tight and narrow spaces. Google's first content that was taken using this technology was through the Grand Canyons in the United States. This device is great for hikers that need content for the Google street 360 view application.
Street View trolley
When this device first launched, it was specifically created for art museums and galleries around the world. This system was developed by Google to easily fit through museum doorways and navigate around artworks like sculptures. For example, it is made up of a push-cart with a camera mounted on the top of it. It has collected images for the Google street 360 view app from inside museums, and other indoor locations like The White House and sports centres/stadiums.
Street View snowmobile
This device created for Google street view 360 is one for the slopes. The team was successfully able to mount the Google street 360 view equipment onto the snowmobile by using some duct tape and extra hard drives that are wrapped in ski jackets to endure the below-freezing temperatures. Skiers and snowboarders can bring in content displaying mountains with hilly snow-capped terrain for viewers to enjoy.
Street View three-wheeler
Motorcycles are used in certain parts of the world with smaller cities. This motorcycle that was found in Indonesia is small enough to fit through narrow alleys and able to travel long distances. The Google street 360 view images are captured with the street view trekker mounted on the bike. A mast had specifically been built to provide stability for the street view trekker.
How does Google bring us the images?
What is the step by step process that Google's team goes through to provide millions of images of places around the world. This is all done by the hard efforts behind the scenes of Google's engineering team.
Step 1: Collect imagery
The first step would be to photograph the images for Google street view 360. Google Street View Singapore professionals that are trained to capture high-quality content will use Google's devices to take the shots. Factors such as weather and density of population, contribute as to where and when the team can capture the best shots for Google street view 360.
Step 2: Aligning imagery
To match each image to its geographic location, the Google Street View Singapore team combines sensors of the car that measures the GPS, speed, and direction. This technology will help determine the car's route and whether to realign the images if needed.
Step 3: Turning into 360 images
For the Google street 360 view image-processing, there are certain photos that need to be 'stitched' to make it a single 360-degree image. There are adjacent cameras that take slightly overlapping photos to avoid gaps in the 360-degree images. Once the images have been stitched into place, there are image-processing algorithms used to lessen 'seams' and make sure the panoramic image has smooth transitions.
Step 4: Showing the right image
This is a more complex step that involves certain skills and evaluations. The Google Street View Singapore car has 3 lasers that will reflect off surfaces. How quickly the lasers reflect off will determine how far a building or object is. If you move to a location with a distance, the 3D model will determine which is the best panorama to show you for that distance.
In summary
Google street view 360 is growing progressively to capture as much of the world that it can. They are headed to many countries with the street view car to bring you imagery that enhances your experience with 360 virtual reality. Google street view 360 captures images through driving, walking, pedaling, sailing, and snowboarding.
This is to capture images with special cameras that simultaneously collect imagery in multiple directions that eventually overlap. This will then be turned into a single 360-degree panoramic piece with image-processing algorithms to give the viewers' the best experience. Digital Solutions is a Google Street view and virtual tour creator in Singapore. To learn more about Google street view 360 and how it all worlds, feel free to contact Digital Solution today to answer all your questions.