eCommerce PSG package
 
Singapore has always been known to have one of the strongest economies all over the world. That is because of the different businesses that are currently operating here. These businesses come from different industries such as mining engineering and even healthcare. They make up a strong and resilient Singapore economy.
Singapore is also one of the best places to conduct operations as it was named as the most business-friendly and most open-market economy in the world back in 2020. Aside from that, It is also the third most corrupt-free country in the world. This makes it an even more attractive location for business owners. Naturally, All kinds of industries in Singapore are crowded with different competitors.
That makes doing business in Singapore more complicated and harder. However, Singapore acknowledges these challenges and extends a helping hand to the businesses. One way of showing support to the said corporations is through offering different grants.
What are the different Singapore business grants?
These grants help all kinds of businesses start or maintain their operations. For example, Singapore currently offers two different grants for startups. These grants are a wide service of funding support mentorship and widening business networks.
There are also grants available for businesses who want to pursue international waters. The LEAD Programme grant helps small and medium enterprises upgrade and go international.
The most sought-after grants or those that are being offered to local companies operating in Singapore. Just like the two kinds of grants, those being offered in local companies also aim to help fund and upgrade business operations. Today, the productivity solutions grant or PSG is in demand as it targets IT solutions for businesses. If you want to know more, we will talk about the eCommerce PSG package and other things entailed in this grant.
What is the Productivity Solutions Grant?
If you want to upgrade the business there are many things that you have to target to make things easy. The productivity solutions grant specifically helps you with IT solutions and equipment. This grant acknowledges that technology is not just about fancy and high-end tools.
This was launched back in April 2018 to assist small and medium enterprises. Through this grant, SMEs can adopt IT solutions and other equipment to enhance their business operations. One of the things that are included in this grant is the eCommerce PSG package.
The eCommerce PSG package includes sector-specific answers or solutions. These sectors include retail, logistics, precision engineering, construction, food, and even landscaping industries. Since technology is a wide discipline, the eCommerce PSG package also involves areas such as customer management, data analytics, inventory tracking, and financial management. Included in this service is the creation of an eCommerce website for local businesses.
The maximum funding being offered by the eCommerce PSG package is from 70% to 80%. This support will be applied from April 1 2020 to March 31 2022 and encourage SMEs to continue their digitalization and upgrading efforts.
Eligibility
As mentioned above, The eCommerce PSG package is for local companies in Singapore. Specifically, below are the qualifications that you have to meet to be  considered for this grant:
The local company must be legally registered and is currently operating in Singaporean territory.
The interested companies should be interested in purchasing, leasing,  or  subscribing to IT solutions,  equipment,  or other services that will be used in Singapore
For selected solutions under the eCommerce PSG package, the company should have a minimum of 30% local shareholding
Applicable for selected solutions, It also has to have at least three local employees when they apply.
How to acquire the eCommerce PSG package?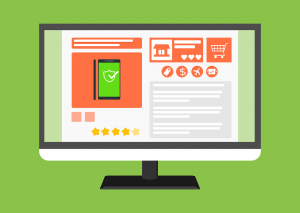 The application procedure would be done through the online platform Business Grants Portal. You can also check your company's grant gap through the same website. Here is the general overview of how to apply for the eCommerce PSG package.
#1 Check appropriate solutions
If you are interested in applying for the Productivity Solutions Grant then you must check the available solutions for your business. These solutions will differ depending on the sector that you are operating in and the needs of your business. As mentioned above, the support given can be financial,  equipment,  or consultancy.
This can help you speed up your application process. Remember that you should only choose those that are applicable to the operations of your company.
#2 Prepare the documents needed
Before you apply through the business grants portal, you have to have the necessary information in documents so that your application can go smoothly. Other requirements also vary depending on the solution that you will avail.
If you want an IT solution, the new must get a quotation from a pre-approved vendor. This way, concerned agencies can assess your application depending on the investment needed. If you are interested in availing necessary equipment, there should be a source for the set equipment and a quotation from the vendor. If you are more interested in consultancy services, a pre-approved consultant should also be able to provide a quotation for the services.
#3 Submit application
The application would be done to the business grants portal platform. This is where you would be inputting the necessary information and documents needed from your company. Remember that putting falsified information and legal documents may compromise your application in business.
What are the benefits of the eCommerce PSG package?
Better cash flow
The productivity solutions grant gives your business an opportunity to acquire necessary tools without spending a large amount of money. As the eCommerce PSG package can shoulder up to 80% of the total cost of the solution, this can give you an opportunity to spend your capital on other aspects of your business.
These kinds of opportunities or benefits are helpful especially for small and medium enterprises trying to operate in an economy like Singapore. It can give business owners the chance to cultivate other operational departments of the business.
Access to professionals
Since the Productivity Solutions Grant is not just limited to funding, the consultancy services it offers are also a big help, especially to start-ups. These small and medium enterprises can ask for a professional opinion when it comes to providing solutions to business operations. This kind of opportunity can bring a business into exponential success.
Sector-specific solutions
As mentioned above, the kind of help that the Productivity Solutions Grant offers is sector-specific. It makes sure that the help and support it offers is something that is helpful and advantageous for the business. As there are many kinds of tools and support, not all can be applicable and appropriate to different kinds of companies. Being able to create or customize a solution that is specifically tailored for your business needs would be a big help and would contribute to better operations
Let us get started today
If you are interested in applying for Singaporean grants then you are in the right place. Digital Solutions can help you acquire an eCommerce PSG package that is tailored for your business. Contact us at +65 6493 2970 today to avail of our services.