7 Essential Steps to Plan Your Next Corporate Video Project
Making sure your corporate video production projects are planned can significantly impact their success. A well-crafted piece of content targets the right audience and motivates potential clients to take action.
This guide will help you outline your objectives, gain insight into your target audience, write a video production brief, and plan the specifics.
1. Choose your objective
Identify an objective for your video content before you do anything else. What is the purpose of the video in the first place? Is there a specific goal you are aiming for?
Video content is often produced without any fundamental objective in mind by business owners and marketing executives. They want to get on board as they've been told (correctly) that video drives brand awareness. However, they put the cart before the horse. They decide to make one before they fully understand why they are creating a production.
Once you've identified your powerful WHY, it's time to create your video. Specifics are more critical than generalities, like gaining social media followers or improving brand awareness.
A specific, measurable, and actionable outcome should accompany your video content. Your mailing list should have X number of subscribers. Your YouTube channel needs to grow by 5x. Your direct-response product needs to be purchased by 10,000 people.
The first step is to identify the objective. Once you understand the WHY, you can incorporate it into your script, production, editing, and release plan.
2. Research your target audience.
You must understand your target audience to succeed with any video project. You will be able to create video content that appeals to and engages your audience if you know who they are, what they like, and how they think.
To reach your target audience, you must conduct thorough research. All creative decisions in video production can then be based on solid research and facts.
Use personas if you already have them in your marketing or communication strategy. Your target audience's demographics, such as age, gender, and location, should not be your sole focus.
Find out what the most common problems are for your audience. Is there anything they connect with? Learn more about your target audience by conducting interviews, asking for feedback, and listening to their online questions.
3. Decide between production companies vs. in-house production.

You must know when to hire a video production company for your project to succeed.
Hiring a video producer is a difficult decision for many companies. The company figures it would be cheaper to get a camera and have our in-house creative jack-of-all-trades take care of it for them.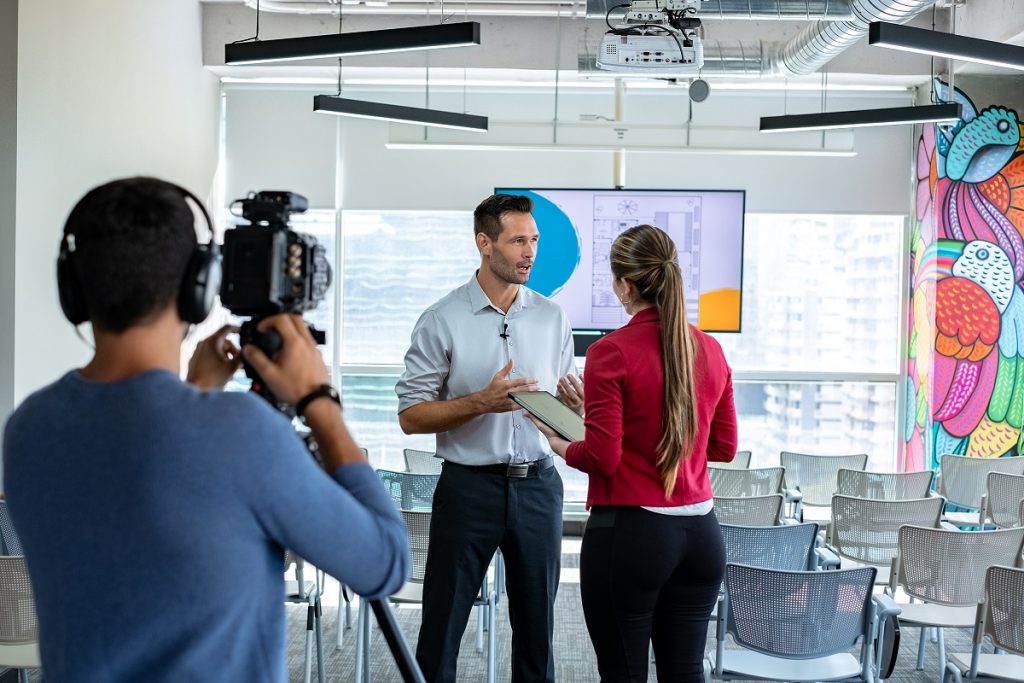 Occasionally, that might be a good idea. Ultimately, it's all about your in-house resources and the quality of the content.
Your in-house capabilities will likely not match those of a professional production company. However, the vast majority of situations will benefit from working with a third party, like a professional corporate video production company. Not only will it ease production and post-production, but it will ensure campaign effectiveness as well.
In addition to strategy, scheduling, and deliverables, an outside producer can assist you with these aspects. Suppose you already cover some of these components in-house. In that case, you can hire a producer to handle a segment, such as strategy.
In any case, deciding early on whether a production company will handle specific tasks and whether you will handle them yourself is crucial. Once the first step is complete, you can move on to the next step.
4. Create the script and storyboard.
When writing the script for your video, you should heavily influence the creative approach you choose in the last step.
Scripts can sometimes include information about specific locations, actors, props, and actions if that level of detail is needed, for example, when actors are hired to dramatize a training session.
After the script is completed, it may also be a good idea to create a rough drawing of a picture (a storyboard or scamp). Working with an animation studio in Singapore will be a great move if you aim for a more engaging video.
Once you can visualize how your video will be shot, you might find it helpful. Visualizing lighting, coloring, framing, transitions, and many other aspects of filming through a storyboard is possible.
5. Schedule and produce your video
The majority of professional productions run from 10 to 12 hours a day. Based on a one-day production, assuming 2 hours for setup and load-in, you should have 8 – to 10 hours to shoot your video.
Make sure that your schedule allows you enough time to complete your project. Having too many dead spaces in your schedule means you're simply sitting around and wasting money. Having too much production scheduled in one day means missing shots and having little face-to-face time with interview subjects.
6. Do editing and post-production.
The editing process creates stories. You can make or break your shoot no matter how well you plan and execute it. A film's production value is heavily dependent on post-production. It applies not only to editing pictures but also to finishing them.
That final 5% in editing and polishing will differentiate your content from everyone else's. It doesn't have to cost much either; you have to work with creatives who know what they're doing.
7. Release and distribute
You can only consider a video complete once your audience has watched and consumed it. Despite producing excellent video content, most companies fail at this point.
The best way to amplify your message organically is to release your content at the right time, with a redistribution and syndication plan in mind. The impact of your video will be lacking if you don't consider all of these factors beforehand.
The problem is that corporations spend a fortune producing content that ends up on YouTube and needs to be remembered about after it is produced. When no one will see your content, what's the point?
Social media lets you easily see your material and mobilize an audience. There is no cost associated with it. It would be best if you had some ingenuity with your release strategy to ensure your content has a long tail.
With these seven essential steps, you'll be well on your way to creating a video that will drive home your message, strengthen your brand, and foster deeper connections with your audience.